News


< Back
Security : Authentication : :
Secure, Convenient and Scalable Mobile Authentication

Partnership combines briidge.net Connect together with ‹t-base enabled devices to Anchor Consumer ID in Trusted Devices Worldwide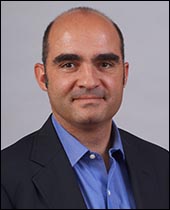 Didier Serra
EVP, Global Partnerships
SecureKey


SecureKey, the identity and authentication solutions provider that links consumer ID to trusted devices, and Trustonic, the leading provider of Trusted Execution Environments (TEEs) for smart devices, has announced a partnership that enables SecureKey's briidge.net Connect services to work with the Trustonic-base TEE in a broad range of mobile devices. As people embrace smart devices, they need next generation embedded security in their devices to speed connection to their favorite services.
Trustonic and SecureKey are enabling the next generation of secure user experiences. Trustonic has a security foundation that is already built in over 250m smart devices shipped globally, which include Samsung Galaxy class devices. The solution scales to billions of devices and by anchoring consumer ID with ‹t-base, SecureKey's briidge.net Connect service creates a better user experience while increasing assurance for online businesses.
"People depend on their smart devices for work and play, so it's integral to the user experience in an increasingly connected economy," said Didier Serra, EVP, Global Partnerships at SecureKey. "Together, with Trustonic, we are delivering a powerful combination of world-leading security with superior user experience that makes it easy for people to securely access online services they rely upon."
A TEE is a hardware secured area built into the application processor of electronic devices. Separated from the main operating system, a TEE protects storage and processing of sensitive data and applications as well as user inputs and biometrics. It protects the integrity, confidentiality and authenticity of key resources and assets. With more cryptographic security there is less reliance on complex passwords to protect services. With on-demand installation of trusted applications ‹t-base interoperates with briidge.net Connect services for deployment in trusted devices. With dynamic authentication people gain the choice, control and convenience over how they access the services they want.
"SecureKey is leading the identity revolution with a user friendly approach to eradicating the problems with unmemorable passwords and pockets full of security gadgets. Its authentication solution will always be with users in their trusted smart devices. Trustonic understands that the mobile device is the personal device that never leaves someone's side and must be secure," said Olivier Leger, EVP Sales and Marketing, Trustonic. "SecureKey's briidge.net Connect authentication services that work with Trustonic technology is proof of our vision of seamless and secure digital lives."
About Trustonic
Trustonic integrates hardware-level security and trust directly into the devices through which we access today's connected world. Trustonic simplifies user experiences in everything from mobile shopping and Internet banking to entertainment to collaborating in the workplace.
Trustonic Limited is a privately held company, between three shareholders: ARM, Gemalto and Giesecke & Devrient (G&D). Trustonic technology is embedded in over 250m smart connected devices, and partners with market leaders such as 20th Century Fox, Cisco, Samsung, Qualcomm and Good Technology.
About SecureKey Technologies
SecureKey is the identity and authentication provider for organizations that deliver online consumer services. SecureKey eliminates the need to store passwords by securely linking consumer ID to trusted devices, while providing consumers with the choice, control and convenience over how they access the services they want. SecureKey delivers a high-performance, easy-to-use, strong dynamic authentication platform that reduces the burden, cost, and risks associated with authenticating millions of consumers while also improving the user experience. SecureKey is headquartered in Toronto, with offices in Boston, Washington D.C., and San Francisco. The company is backed by a world-class group of venture and corporate investors that include strategic investments from Visa, MasterCard, Discover, Rogers Venture Partners, and Intel Capital.