News


< Back
Security : Technology : Transactions : Hardware
Optical Reader for Secure Transaction Authentication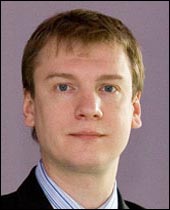 Igor Drokov
CEO
Cronto Limited


Cronto introduces the new generation CrontoSign optical device for secure online banking. The Cronto visual transaction signing solution is now available as a state-of-the-art, dedicated hardware optical reader that features a large colour screen, replaceable batteries and a new compact form-factor.
The new CrontoSign device uses a large 1.7" colour TFT display allowing banking customers to review all transaction details on the same screen. Since all transaction information is instantly decoded and decrypted by the device from the CrontoSign image, the bank is fully in control of what and how is presented on the trusted display of the CrontoSign reader. The bank can choose, in real time, the exact message to display on the device to give the customer the best chance to spot a fraudulent transaction. This allows the bank to mitigate not only current attacks but even future threats poised by social engineering attacks and banking Trojans.
"We have been working closely with our customers to further enhance the usability and security features of the CrontoSign device. Being able to present all payment details in one simple view and using text colour and style to highlight any unusual activity to the customer was one of the key areas of this development." says Igor Drokov, CEO, Cronto.
The CrontoSign device now also supports multiple independent security credentials allowing the customer to use it easily and securely across several banking accounts. The device is distributed to the end users unpersonalised and can be activated for each account following bank's activation process. The activation involves loading unique security credentials on the device by scanning an activation CrontoSign image.
Unlike many authentication devices on the market that have built-in batteries, the CrontoSign device works with a set of standard batteries that can be changed by the user without the need for the whole unit to be regularly replaced; thus extending the lifetime of the device, reducing the cost of ownership and supporting an easy disposal of used batteries in an environmentally-friendly way.
The CrontoSign Device is already in volume production and available to customers.
Cronto Limited is a leading provider of secure visual transaction authentication solutions for online banking, based upon CrontoSign Visual Signing Technology born out of leading edge engineering research undertaken at the University of Cambridge. The CrontoSign solution is protected by the European Patent No. 1969880.