News


< Back
Security : Technology : Network : Virtualized Environments
HyTrust Partners with National Cybersecurity Center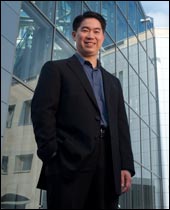 Eric Chiu
Founder & President
HyTrust


HyTrust Inc., the leader in policy management and access control for virtualization and cloud infrastructure, has announced a new partnership with the National Cybersecurity Center of Excellence (NCCoE), along with other industry leaders such as Cisco, HP, Intel, McAfee, Microsoft, RSA, Splunk, Symantec, Vanguard and Venafi.
NCCoE, which was created by the National Institute of Standards and Technology (NIST) and the State of Maryland and Montgomery County, is focused on bringing together the best minds, tools and solutions that will protect our ideas, innovations and data from cyber thieves, and make electronic communications and transactions safer. It aims to enable shared cybersecurity best practices and technologies, and mitigate risk and enhance trust in our national IT systems.

The gold standard for cloud and virtualization security, HyTrust brings control, security, management, compliance and visibility to cloud environments and the new computing layer it introduces. In effect, HyTrust enables the new efficient data center; allows organizations to virtualize more and build clouds safely; and increases virtualization ROI while satisfying the demands of internal security teams, compliance auditors, and virtualization and cloud operations. This is especially critical given that along with the vast benefits, virtualization and cloud infrastructure also introduces a serious issue: concentration of risk.

"As computing continues to move to the cloud, it's crucial that organizations and government agencies be able to address the unique security challenges presented," said Eric Chiu, president & founder, HyTrust. "Likewise, security vendors need to shift focus to the cloud, however, for the most part, the industry hasn't kept pace. This will become even more vital as cybersecurity threats mound." Chiu continued: "Virtually all the companies partnering with the NCCoE are partners of HyTrust, and highly focused on securing the new era of computing, which already happens to be the new reality—cloud computing. We're happy to announce our partnership with the NCCoE today as well."

According to industry surveys, in 2011 more than 174 million records were compromised in breaches and technical errors worldwide, costing businesses billions of dollars, threatening national security, and undermining consumer privacy and confidence. Cybersecurity is a challenge for companies large and small, as well as private and public institutions, states and the federal government.

"Cybersecurity is one of the toughest technical challenges facing the nation today," said Under Secretary of Commerce for Standards and Technology and NIST Director Patrick Gallagher. "NIST looks forward to working with these top private-sector companies and our state and federal partners in Maryland to help the National Cybersecurity Center of Excellence jumpstart its work to better protect our vital IT infrastructure and business information."

The NCCoE was established to bring together experts from industry, government and academia to find practical solutions for today's most pressing cybersecurity needs and help businesses secure their data and digital infrastructure. Vendors, end users, and researchers will work side by side on specific industry challenges and to encourage the rapid adoption of comprehensive cybersecurity tools that can protect business information.

HyTrust, headquartered in Mountain View, CA, is the leader in policy management and access control for virtual infrastructure. HyTrust empowers organizations to virtualize more—including servers that may be subject to compliance—by delivering enterprise-class controls for access, accountability, and visibility to their existing virtualization infrastructure. The Company is backed by top tier investors VMware, Granite Ventures, Cisco Systems, Trident Capital, and Epic Ventures; its partners include VMware; VCE; Symantec; CA; McAfee; Splunk; HP Arcsight; Accuvant; RSA and Intel Corporation.





Advertise your product/service here!