News


< Back
Security : Data Management : Privacy :
PwC US Named to 2013 Online Trust Honor Roll

Recognized for Demonstrating Leadership in Brand Protection, Online Security, and Privacy Best Practices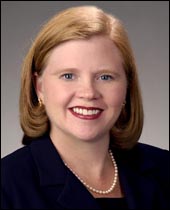 Carolyn Holcomb
National Leader, Data Protection and Privacy Practice
PWC


The Online Trust Alliance (OTA) has named PwC US to its 2013 Online Trust Honor Roll for demonstrating exceptional data protection, privacy and security services that protect customers and brands from the increased threats of cybercriminals.
"We are excited and pleased that the Online Trust Alliance has recognized our data protection and privacy efforts as it is critical for companies to take a holistic view of security and privacy in today's evolving risk landscape," said Carolyn Holcomb, national leader of PwC's Data Protection and Privacy practice. "Keeping up with the nonstop stream of changing technology and uses of information can be a daunting task and our team is committed to helping clients design and implement comprehensive information security and privacy programs to protect the personal data they collect, thereby avoiding potential reputational risks."
PwC's Data Protection and Privacy practice is one of the many service offerings within PwC's Risk Assurance practice which is comprised of over 2,500 professionals. The Risk Assurance team provides companies with significant technical expertise as well as deep industry knowledge across all industries. Skilled team members assist companies on developing risk and compliance programs, audits and creating internal controls processes around business performance issues, IT systems as well as strategy and contingency planning.
OTA, a nonprofit organization that works collaboratively with industry leaders to enhance online trust, completed comprehensive audits analyzing more than 750 domains and privacy policies, approximately 10,000 web pages and more than 500 million emails for this report. The composite analysis included over a dozen attributes focusing on 1) site & server security, 2) domain, brand, email and consumer protection, and 3) privacy policy and practices. In addition to the in-depth analysis of their web sites, Domain Name Systems (DNS), outbound emails, and public records were analyzed for recent data breach incidents and FTC settlements. Key sectors audited include the Internet Retailer 500, FDIC 100, Top 50 Social Sites as well as OTA members.
"Consumers are trading billions of pieces of personal data in exchange for desired services. They rely on the integrity of the businesses collecting and storing this information to protect them," said Craig Spiezle, president and executive director of the Online Trust Alliance. "We are very pleased with the voluntary level of adoption many consumer-facing websites implemented this year that went above and beyond baseline compliance."
Started in 2005 as an effort to drive adoption of best practices, the objectives of the Honor Roll are to 1) recognize leadership and commitment to best practices which aid in the protection of online trust and confidence in online services, 2) Enable businesses to enhance their security, data protection and privacy practices, 3) Move from compliance to stewardship, demonstrating support of meaningful self-regulation, and 4) Promote security & privacy as part of a company's brand promise and value proposition.
Being named to the 2013 Honor Roll is a significant achievement considering the large number of companies that received failing marks for inadequate domain and consumer protection (14%), insecure websites (7%), and inadequate privacy policies or data collection practices (36%).
The Online Trust Alliance (OTA) is a non-profit with the mission to enhance online trust, while promoting innovation and the vitality of the internet. Our goal is to help educate businesses, policy makers and stakeholders while developing and advancing best practices and tools to enhance the protection of users' security, privacy and identity. OTA supports collaborative public-private partnerships, benchmark reporting, meaningful self-regulation and data stewardship.
PwC understands that significant risk is rarely confined to discrete areas within an organization. Rather, most significant risks have a wide-ranging impact across the organization. As a result, PwC's Risk Assurance practice has developed a holistic approach to risk that protects business, facilitates strategic decision making and enhances efficiency. This approach is complemented by the extensive risk and controls technical knowledge and sector-specific experience of its Risk Assurance professionals. The end result is a risk solution tailored to meet the unique needs of clients.

PwC US helps organizations and individuals create the value they're looking for. We're a member of the PwC network of firms in 158 countries with more than 180,000 people.