News


< Back
Security : Technology : Network : Encryption
Multi-Factor Authentication Gaining Traction

SafeNet Global Authentication Survey reveals more enterprises to adopt cloud-based authentication and mobile MFA to accommodate an increasingly mobile workforce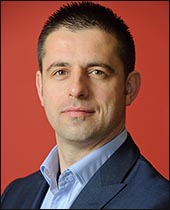 Jason Hart
Vice President of Cloud Solutions
SafeNet


Rising security risks, and demand for seamless and secure access across any device, anytime, has triggered greater adoption of authentication solutions, according to new research from SafeNet, Inc., a global leader in data protection. The 2014 Global Annual Authentication Survey found that over one-third of organizations now use multi-factor authentication to provide seamless and secure access across a multitude of devices and locations – an increase from 2013.
The survey results illustrate that more businesses are adopting multi-factor authentication and distributing it across the wider workforce. The findings support a recent 451 Research report[1] which reveals that access control and authentication are the top 'pain points' and priorities for IT departments. With 57 percent of all data breaches in 2013 the result of malicious outsiders[2], multi-factor authentication reduces the risk of unauthorized users accessing sensitive information, while still ensuring staff can access corporate resources when and how they need them.
Key Findings
Clear growth in multi-factor authentication (MFA) adoption:

37 percent of organizations now use MFA for a majority of employees – up from 30 percent last year
By 2016, 56 percent of organizations expect the majority of users to rely on multi-factor authentication.
Cloud authentication gaining acceptance:

33 percent of organizations indicated they preferred cloud-based authentication, up from 21 percent last year – a 50 percent increase
33 percent are now open to the cloud for authentication implementations
MFA for mobile devices:

More than 53 percent of respondents said users of mobile devices have restricted access to corporate resources.
Those using MFA for mobile users, (22 percent currently) expect usage to grow to 33 percent by 2016 – an increase of 30 percent
"It's clear that some IT departments are struggling to keep up with the rapid pace of change caused by new technologies. The danger is that companies are unable to offer staff the full system access they require to perform their job because they don't have the secure authentication in place to allow access. Then there's the fact that almost every other week we hear about a new enterprise being hacked and data potentially leaked. So there is a perpetual battle to keep up with fast-paced advances in technology, and attempts to protect the company and curb security risks," stated Jason Hart, Vice President of Cloud Solutions at SafeNet.
Cost and Budget Priority
The 451 Research report revealed that authentication and identity access management are a top priority for security projects. Yet, interestingly, in the SafeNet Authentication Survey, almost 40 percent did not know how much their authentication solution costs per user per year, illustrating the lack of awareness over what is most cost-effective for the organization. The perception that, by not spending extra on multi-factor authentication, the organization is cost saving could be misleading to those in charge of IT budgeting. In fact, a multi-factor authentication solution aims to reduce authentication costs and improve ease of use.
Cloud vs. On-Premises-based Authentication
The growing demand from employees to connect to the corporate network with their own device has been met with a rise in cloud-based authentication from organizations. This year, 33 percent of companies indicated that they preferred cloud-based authentication, up from 20 percent last year.
"Ultimately, enterprises must accept that their staff will find ways to use mobile devices to access corporate data – with or without permission. Instead of preventing access, IT decision-makers need to deploy multi-factor authentication, which can offer the protection of corporate resources, while allowing staff access and maintaining productivity and performance," Hart added.
Authentication from Mobile Devices
When it comes to using strong authentication for mobile devices with access to corporate resources, the majority of responses were grouped at either end of the scale, showing polarized practices. Almost 40 percent said less than 10 percent of users are required to use strong authentication, while over 20 percent suggest that 90-100 percent of users currently require it. Interestingly, these figures are set to shift significantly, with 33 percent expecting that 90-100 percent of users will require strong authentication in the next two years, and only 15 percent suggest less than 10 percent, emphasizing the growing importance of mobile authentication.
The drive towards mobile authentication is also fuelling a move from hardware- to software-based authentication tokens. The survey revealed that the use of software-based authentication rose from 27 percent in 2013 to 40 percent in 2014, with the expectation that this will rise again to 50 percent in 2016. Conversely, the use of hardware-based authentication dropped from 60 percent in 2013 to 41 percent in 2014.
"IT companies are certainly responding to the rise in mobility with increased software-based authentication; however, there appears to be a 'disconnect' between the desire to embrace mobility, and the struggle to keep up with it and protect resources and data from external threats. Furthermore, as adoption of cloud computing grows, better security becomes crucial. Indeed, the cloud offers various benefits for authentication and applications, but without the security to support them, it only increases the threat." Hart concluded.
About the Survey
The research from SafeNet polled more than 350 senior IT decision-makers from around the world—about 29 percent from the Asia Pacific region; 42 percent from Europe, Middle East and Africa; and 29 percent from North America. The report compares data with a corresponding report from 2013. The full report can be found here. [Insert hyperlink]
SafeNet enables customers to encrypt sensitive data at the storage, file, virtual instance, database, and application layer, while managing encryption security policies and encryption keys centrally. In addition, SafeNet supports format-preserving tokenization for a wide variety of data types. Through this multi-layer approach, SafeNet enables organizations to:
Separate administration of systems and applications from the data stored or processed within these infrastructure layers, ensuring privileged users can't see sensitive data.
Take advantage of lower cost operational models while consistently enforcing security policies.
Centralize encryption management across physical, virtual, and public cloud environments, and efficiently deliver detailed logs and compliance reporting for internal and external auditors.
Employ key vaulting and secure cryptographic resources, both in data center and multi-tenant environments, in order to retain full ownership and control of their encryption service.
With these capabilities, organizations can institute a defense-in-depth strategy that delivers high levels of security for sensitive data, regardless of where it resides—even if there has been a breach of other controls.
SafeNet Authentication Service
SafeNet Authentication Service is a cloud-based authentication solution that allows service providers and enterprises to rapidly introduce authentication-as-a-service to their customers. It also allows them to significantly reduce the cost and complexity associated with offering and implementing strong authentication, and to strengthen their security and compliance posture. This process is simplified through the flexibility and scalability of automated workflows, vendor-agnostic token integrations, and broad APIs. In addition, management capabilities and processes are fully automated and customizable—providing a seamless and enhanced user experience. With no infrastructure required, SafeNet Authentication Service enables a quick migration to a multi-tier and multi-tenant cloud environment, and protects everything from cloud-based and on-premises applications to networks, users, and devices.
About SafeNet, Inc.
Founded in 1983, SafeNet, Inc. is one of the largest information security companies in the world, and is trusted to protect the most sensitive data for market-leading organizations around the globe. SafeNet's data-centric approach focuses on the protection of high-value information throughout its lifecycle, from the data center to the cloud. More than 25,000 customers across commercial enterprises and government agencies trust SafeNet to protect and control access to sensitive data, manage risk, ensure compliance, and secure virtual and cloud environments.
---
[1] The enterprise information security organisation in 2014, 451 Research; https://451research.com/report-short?entityId=80256
[2] Breach Level Index Annual Recap, SafeNet: http://breachlevelindex.com/pdf/Breach-Level-Index-Report.pdf