News


< Back
Security : Technology : Network :
Strategy for Connected Network Security

Expands Local Threat Intelligence and Strengthens Integration with Security Connected Framework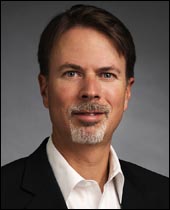 Pat Calhoun
General Manager of Network Security
McAfee


McAfee, part of Intel Security, has outlined its strategy for helping businesses and government agencies strengthen their network protection through a powerful combination of integrated technologies. As part of its strategy, McAfee is strengthening its network portfolio with deeper integration and expanded use of both global and local threat intelligence.

"Gone are the days when you could deploy a new standalone security appliance to protect your entire network"

Firewalls are the first line of defence for many organizations, however, traditional firewalls do not integrate with endpoint security solutions and do not have access to either global threat intelligence or local threat intelligence. Without this integration, organizations are unable to protect against many of today's complex attacks. Recent high profile data breaches have underscored this challenge, with many organizations discovering breaches days or weeks after the initial compromise had occurred.

To address this challenge, McAfee is delivering a framework that brings network and endpoint together through centralized management and that integrates with both global and local threat intelligence to deliver visibility across all threat vectors.

Network Security Must be Integrated

As part of its Security Connected framework, McAfee offers network security as part of an integrated portfolio in which security products and services work together to safeguard businesses from advanced attacks. At the core of McAfee Security Connected are the principles of integrated solutions, built-in intelligence and advanced management offered with an extensible architecture for partners. These solutions integrate with endpoint security to share real-time information, threat intelligence and workflows to strengthen an organization's defenses.

"Gone are the days when you could deploy a new standalone security appliance to protect your entire network," said Pat Calhoun, general manager of network security at McAfee, part of Intel Security. "The advanced attacks that we're seeing today happen far too quickly and can easily overwhelm security products that are operating solo."

McAfee offers a wide range of integrated network protection technologies including McAfee Threat Intelligence Exchange, McAfee Advanced Threat Defense, McAfee Network Intrusion Prevention, and McAfee Next Generation Firewall. The McAfee network security framework provides maximum availability, security, integrity, flexibility and manageability with minimum overhead and risk. With a proven record in network security protection, McAfee is the partner of choice for the most security-conscious companies and governments worldwide.

A recent McAfee report outlined the role of advanced evasion techniques in Advanced Persistent Threats, and the high cost to organizations worldwide to deal with the clean-up and impact of these techniques. McAfee Next Generation Firewall is the most recent solution to be enhanced and added to the growing list of Security Connected solutions. With the support of McAfee Global Threat Intelligence, the McAfee Next Generation Firewall has access to the latest network threats, cutting down threat identification time and minimizing the impact to network performance.

"In our demanding environment, there are only a few systems on the market that are capable of meeting our criteria," said Andreas Schreiber, Chief Business Development Officer at RWTH Aachen University. "McAfee Next Generation Firewall guarantees both optimal protection and high availability—and with a price performance ratio suitable for a public institution. With McAfee Next Generation Firewall, RWTH is well equipped for the future."

Threat Intelligence is Critical

The ability to quickly spot and pre-empt advanced threats is now a business differentiator as companies seek to protect their intellectual property and assure customers that their data is safe and secure. Building on McAfee's leadership experience across network, endpoint and data security, McAfee Threat Intelligence Exchange allows organizations to orchestrate security controls to identify patterns, immunize assets against newly-identified malware and prevent data exfiltration in real-time – optimizing security for each organization.

Calhoun added, "Just as a team is more powerful than an individual, a beneficial multiplier effect occurs when network security solutions are connected to each other, to endpoints and other intelligence sources – the collective security analysis from these solutions is greater than that of a single solution."

For more information about McAfee's connected network security portfolio, please visit www.mcafee.com/NetworkSecurity.

About McAfee

McAfee, part of Intel Security and a wholly owned subsidiary of Intel Corporation (NASDAQ: INTC), empowers businesses, the public sector, and home users to safely experience the benefits of the Internet. The company delivers proactive and proven security solutions and services for systems, networks, and mobile devices around the world. With its visionary Security Connected strategy, innovative approach to hardware-enhanced security, and unique global threat intelligence network, McAfee is relentlessly focused on keeping its customers safe. http://www.mcafee.com







Advertise your product/service here!