News


< Back
Security : Data Management : Privacy :
Optimize the Quality of Exchanges Between Applications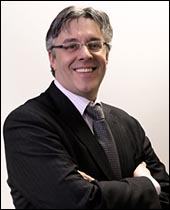 Alain Scherrer
President
SecurEcom Consulting Services


SecurEcom Consulting Services, a firm that specializes in managing risks related to the security of information and technology, is expanding its service offer to include expertise in Enterprise Service Bus (ESB) infrastructure and Service Oriented Architecture (SOA). With these competences and related practices, SecurEcom can support organizations in the design, management and optimization of tactical or strategic ESB infrastructures. This support will enable companies to achieve their business objectives, whether organizational, technological, financial or operational.
The steady increase in the number of applications within information systems and the growing complexity of information exchanges have led organizations to rethink their interconnection strategies so as to standardize and optimize these exchanges. Initially based on the webMethods Integration Suite, SecurEcom's ESB infrastructure practices provide the needed expertise for this progression. For example, an international manufacturer has implemented an ESB infrastructure to support the daily execution of several million processes by interconnecting approximately 80 applications.
SecurEcom's ESB infrastructure practices allow for rapid and flexible integration of existing systems, while meeting stringent demands in terms of quality of service and cost control. These practices are based on innovative functionalities that combine the industrialization of development, automation and the provision of the ESB infrastructure in the form of a Platform as a Service (PaaS).
"This expertise in ESB infrastructure enhances our services by offering clients global and effective solutions that enable them to optimize their information systems, increase their company's overall performance and support all of their activities," said Alain Scherrer, President of SecurEcom Consulting Services.
The ESB/webMethods expertise is part of an approach unique to SecurEcom aimed at aligning IT with critical operational imperatives, based on recognized, proven practices, such as verifying compliance with application security, developing security infrastructures and interconnecting applications
About SecurEcom Consulting Services
SecurEcom Consulting Services is a firm specializing in managing risks related to information technology security. It supports organizations by offering high quality services aimed at protecting their technological infrastructures, data and applications. The firm offers specialized expertise in information security and complementary IT services, providing a global vision of the business objectives and needs of organizations of all sizes. T

To learn more, visit: www.securesc.ca