News


< Back
Security : Storage : :
Miami Marlins Select Cleversafe to Create Secure, Reliable Environment for Critical Team Data

Cleversafe Object-based Storage Technology Keeps Marlins' Growing Data Safe and Accessible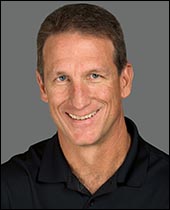 Russ Kennedy
Senior VP of Product Strategy and Customer Solutions
Cleversafe


Cleversafe, Inc., the industry-leading object-based storage provider, has announced that the Miami Marlins selected Cleversafe's dsNet technology to address growing storage demands and provide more efficient, secure and reliable access to player media and other team fileld.
From spring training to the last game of season, the Miami Marlins' IT department captures every pitch, hit and player on video to help improve player performance and guide overall team strategy. With large amounts of data to access and store, the team sought to deploy a scalable storage solution that would facilitate the secure sharing of video and large files between coaches and other authorized users without increasing costs or decreasing uptime. The Miami Marlins chose a private cloud solution that leverages Cleversafe object-storage technology on the back-end with a Panzura controller as the local interface to the global file system for seamless data access.
"In the sports and entertainment field, our data is what defines us. Our video is not only our history and identity, but also it is a tool that is used to improve the overall product on the field," said Osvaldo "Ozzy" Macias, manager of IT for the Miami Marlins. "Implementing this technology not only future-proofs our operation – ensuring that our systems can grow with our data – but also, it provides us with security and always-on access to assets that are critical to our success as a team and organization."
The Miami Marlins worked with Syscom Technologies to find a cost-effective alternative to their traditional storage system. Cleversafe's dsNet object-based storage solution – which uses a patented, geographically dispersed erasure coding and houses data as virtualized and encrypted "slices" that are spread across devices and storage nodes – appealed to the team as it allows them to reliably store and manage big data in a smaller footprint. Cleversafe's technology eliminates the need for costly data replication and leverages All or Nothing Transform (AONT) to encrypt the information, further enhancing the system's security.
With this technology, the baseball team's IT department delivers the capacity and performance needed to seamlessly access data from the ballpark or training facilities without requiring a significant data center build out. The solution significantly improves overall system management, enabling one staff member to free up nearly 30 percent of the time he formerly spent on backup and focus on proactive IT initiatives that help move the organization forward.
"At the end of the day, the Miami Marlins wanted a reliable system that is easy to use, allows personnel to quickly access data from multiple locations and provides secure, persistent data backup and recovery," said Russ Kennedy, senior vice president of Product Strategy and Customer Solutions at Cleversafe. "By deploying a private cloud environment supported by Cleversafe, the team benefits from a system that is not only cost-effective and reliable right now, but also will grow with the Marlins through seasons to come."
About Miami Marlins:
The Miami Marlins were granted a Major League Baseball franchise on July 5, 1991. The Club's first game and win was on April 5, 1993 against the Los Angeles Dodgers. The Club was originally named the Florida Marlins until November 11, 2011 when they officially became the Miami Marlins. In March 2012, the Marlins opened Marlins Park, their state-of-the-art, retractable roof ballpark in Miami. The Marlins won their first of two World Series Championships in 1997 in the deciding game of a seven-game series over the Cleveland Indians. At the time, the Marlins became the quickest expansion franchise ever to win a title in Major League Baseball history. The Marlins won their second World Series Championship in 2003 in six games over the New York Yankees. Since 1993, the Marlins have been awarded two Manager of the Year awards, four Rookie of the Year awards, seven Silver Sluggers, nine Gold Gloves and have had 39 representatives (23 different players) at the All-Star Game. The Miami Marlins, L.P. are owned by Jeffrey H. Loria who officially purchased the franchise on February 16, 2002.
About Cleversafe Inc.
Cleversafe has created a breakthrough technology that solves petabyte-and-beyond big data storage problems. This solution drives 65 percent of the storage cost from the business while enabling secure and reliable global access and collaboration. The world's largest data repositories rely on Cleversafe.

To learn more about Cleversafe and its solutions, please visit www.cleversafe.com





Advertise your product/service here!