News


< Back
Security : Technology : Identity and Access Management :
DB Networks Honored as Gold Winner at the 9th Annual 2014 Hot Company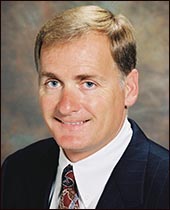 Brett Helm
CEO
DB Networks


DB Networks, an innovator of behavioral analysis in database security, announced recently that Network Products Guide, the industry's leading technology research and advisory guide, has named the IDS-6300 a Gold winner of the 9th Annual 2014 Hot Companies and Best Products Awards for the Best Security Hardware Award
The IDS-6300 intelligent security appliance is the industry's first next-generation Core Intrusion Detection System (IDS) based on behavioral analysis for advanced SQL injection intrusion detection, database discovery, and application/database mapping.
"DB Networks is honored is be recognized by the Network Products Guide for our IDS-6300," said Brett Helm, Chairman and CEO of DB Networks. "The IDS-6300 enables organizations to immediately identify advanced SQL injection attacks that have slipped past their perimeter security defenses."
About DB Networks
DB Networks is innovating behavioral analysis technology in the field of database security. Developed for organizations that need to protect their data from advanced attacks, including Zero-Day attacks, DB Networks offers effective countermeasures against SQL injection attacks. Database attacks happen rapidly – in a matter of minutes – and bypass traditional perimeter security measures. DB Networks' unique approach uses behavioral analysis technology to automatically learn each application's proper SQL statement behavior. Any SQL statement dispatched from the application that deviates from the established behavioral model immediately raises an alarm as a possible attack. DB Networks is a privately held company headquartered in San Diego, Calif.





Advertise your product/service here!