News


< Back
Security : eForensics : Media Sanitization :
Secure Sanitization of Hard Drives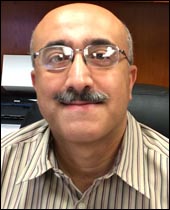 Farid Emrani
President and CEO
Logicube


Logicube Inc., the industry's leader in hard drive duplication and eForensics technology, has announced the addition of the ZX-Tower (also known as ZX-T), an 8-target, hard drive wiper, to its line of high performance solutions.
"The ZX-T delivers extremely fast performance at 24GB/min in an easy-to-use interface that makes it simple to operate," commented Farid Emrani, President and CEO of Logicube. "Stringent compliance regulations such as HIPAA and Sarbanes-Oxley have made it imperative for corporations of all sizes to ensure that sensitive data on hard drives is securely erased before re-purposing or disposal," stated Emrani.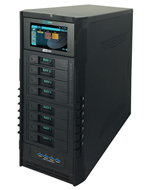 This new solution provides built-in support for SAS and SATA hard drives. The ZX-T also supports USB enclosures with four USB 3.0 ports available. IDE drives are supported using optional adapters. Optional adapters are also available to support other drive interfaces including ZIF, mSATA, microSATA, eSATA and flash media. Network connectivity is available with the ZX-T, allowing users to connect to a network and remote control the ZX-T via a web browser.
"Allowing users to wipe up to 8 drives at a time, the ZX-T is a time-saver for production environments, repair depots, service/support organizations and digital forensic customers who need to reuse drives for evidence collection. The ZX-T features cable-free slide-in bays that provide fast insertion and removal of hard drives to streamline the entire process," commented Mr. Emrani.
The ZX-T allows organizations to easily comply with the National Institute of Standards and Technology (NIST) 800-88 Guidelines for Media Sanitization. The unit can safely and securely sanitize hard drives using a Secure Erase mode, a custom pass setting or a powerful 7-pass DoD wipe mode. Users can utilize the Task Macro feature to perform a Gutmann 35 pass wipe for maximum security. The ZX-T provides comprehensive log reports on each wipe operation. Logs can easily be exported to HTML, XML or PDF format. The unit has a sleek, space-saving tower design.
The powerful ZX-Tower provides IT professionals in corporate and manufacturing environments the ability to quickly and confidently erase hard drive data. Logicube will begin shipping the ZX-T mid-July 2014.
About Logicube
Logicube is the world's leader in hard drive duplication and eForensics solutions. Founded in 1993, with headquarters in Chatsworth, California, Logicube is dedicated to delivering reliable, innovative, state-of-the-art solutions for users worldwide. The company's products are sold direct to end users, through international distributors and authorized dealers world-wide.