News


< Back
Security : Data Management : Privacy :
MegaPath Recognized for Exceptional Innovation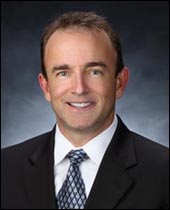 Dan Foster
President
MegaPath


MegaPath Corporation, one of the leading providers of managed data, voice, security and cloud services in North America, has announced that its Hosted Voice solution won a 2014 Communications Solutions Product of the Year award from TMC, a global, integrated media company. This award recognizes MegaPath Hosted Voice for demonstrating true innovation and being among the best communications and technology solutions on the market in 2014.

With MegaPath Hosted Voice, businesses of all sizes have access to an affordable, feature-rich communications solution that delivers clear, reliable voice calls with 99.999 percent voice network availability, the best in the industry,? said Dan Foster, President, MegaPath. ?This award from TMC recognizes our commitment to providing solutions that deliver the highest level of voice quality, reliability, functionality and support.?

MegaPath Hosted Voice provides organizations with more functionality than traditional phone systems, and enables companies of all sizes to work smarter and increase productivity. Hosted Voice offers more than 50 calling features, including Visual Voicemail, Conferencing, Mobile Integration and Call Recording. Additionally, MegaPath?s network delivers 99.999 percent availability, providing customers with the highest level of reliability in the industry. MegaPath also controls traffic on its private, nationwide IP data network, enabling the company to prioritize voice traffic end-to-end and guarantee Quality of Service (QoS) in a manner not possible from most providers.

MegaPath is consistently recognized for its innovation and industry leadership. Most recently, MegaPath Hosted Voice also received the Internet Telephony Product of the Year award as well as a Unified Communications Excellence Award from TMC. Additionally, the company received ten Partners Choice Awards from the Telecom Association including Hosted VoIP, Managed
Services, and Best Ethernet over Copper provider.

About TMC
TMC is a global, integrated media company that helps clients build communities in print, in person and online. TMC publishes multiple magazines including CUSTOMER, INTERNET TELEPHONY, M2M Evolution and Cloud Computing. TMCnet is read by more than 1.5 million unique visitors each month, and is the leading source of news and articles for the communications and technology industries. TMC is also the producer of ITEXPO, the world?s leading B2B communications event, as well as industry events: M2M Evolution; Cloud4SMB Expo; DevCon5; HTML5 Summit; Super Wi-Fi Summit, CVx; AstriCon; StartupCamp, and more.

About MegaPath
MegaPath operates one of the largest end-to-end communications networks in the country, providing both commercial and wholesale services. The company provides a full range of data, voice, security and hosted IT services for small, medium and enterprise businesses nationwide, as well as wholesale solutions to the carrier and service-provider markets. MegaPath helps
businesses easily and securely communicate between their headquarters, employees and business partners to lower costs, increase security and enhance employee productivity.





Advertise your product/service here!