News


< Back
Security : Embedded : :
A New Single-Wire-Protocol License Agreement for INSIDE Secure

Agreement is an extension of the cross-license signed in 2008 which provides INSIDE VaultSEcure Secure Element products with a standard interface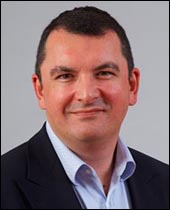 Loic Hamon
Vice-President Corporate Development
INSIDE Secure


INSIDE Secure (Euronext: INSD), a leader in embedded security solutions for mobile and connected devices, has announced a new Single Wire Protocol (SWP) license agreement with Gemalto. The agreement is an extension of the 2008 SWP and HCI (Host Controller Interface) cross-license agreement and provides a standard interface for the INSIDE VaultSEcure Secure Element product line. This new license reinforces GEMALTO SWP as the de facto standard for Secure Element connection to Smartphone application processors.

"Both Gemalto and INSIDE Secure have a long partnership on NFC and related technologies and this new agreement expands our commitment to SWP"

INSIDE Secure and GEMALTO have been instrumental in standardizing both SWP and HCI for Near Field Commutations (NFC) technology, which was at the center of the original agreement between the two companies.

"This renewal of our agreement with INSIDE Secure will continue to support the momentum of growing NFC ecosystems to benefit service providers and consumers alike," said Frédéric Vasnier, Executive Vice President Embedded Software & Products at Gemalto.

"Both Gemalto and INSIDE Secure have a long partnership on NFC and related technologies and this new agreement expands our commitment to SWP," said Loic Hamon, Vice-President Corporate Development of INSIDE Secure. "Our state-of-the-art VaultSEcure Secure Element family will benefit from this de facto interface to connect to mobile phones, tablets, desktop computers and M2M capable devices application processors."

INSIDE Secure announced an agreement earlier this year with Intel to license their NFC technology as Intellectual Property and has repositioned the company to focus on the breadth of its security offerings. With decades of security innovation and expertise, INSIDE has become the leader in complete solutions for embedded security applications.

INSIDE Secure has the most comprehensive security offering, from secure software solutions to alternative hardware and IP, and is uniquely positioned to provide security solutions for the enterprise, digital entertainment and financial services markets, three key market drivers for mobile security.

Gemalto is at the heart of our evolving digital society, enabling businesses and governments around the world to offer trusted and convenient digital services to billions of individuals.

About INSIDE Secure

INSIDE Secure (Euronext FR0010291245 – INSD) provides comprehensive embedded security solutions. World-leading companies rely on INSIDE Secure's mobile security and secure transaction offerings to protect critical assets including connected devices, content, services, identity and transactions.
Unmatched security expertise combined with a comprehensive range of IP, semiconductors, software and associated services gives INSIDE Secure customers a single source for advanced solutions and superior investment protection.

About Gemalto

Gemalto (Euronext NL0000400653 GTO) is the world leader in digital security with 2013 annual revenues of €2.4 billion and more than 12,000 employees operating out of 85 offices and 25 research and software development centers, located in 44 countries.

We are at the heart of the rapidly evolving digital society. Billions of people worldwide increasingly want the freedom to communicate, travel, shop, bank, entertain and work – anytime, everywhere – in ways that are enjoyable and safe. Gemalto delivers on their expanding needs for personal mobile services, payment security, authenticated cloud access, identity and privacy protection, eHealthcare and eGovernment efficiency, convenient ticketing and dependable machine-to-machine (M2M) applications. We develop secure embedded software and secure products which we design and personalize. Our platforms and services manage these products, the confidential data they contain and the trusted end-user services made possible.

Our innovations enable our clients to offer trusted and convenient digital services to billions of individuals. Gemalto thrives with the growing number of people using its solutions to interact with the digital and wireless world.





Advertise your product/service here!