News


< Back
Security : Embedded : :
Remy de Tonnac Named Finalist for 2014 Golden Bridge Award

Remy de Tonnac recognized for his strategic vision and leadership that transformed INSIDE Secure's from a niche player to a market leading mobile security company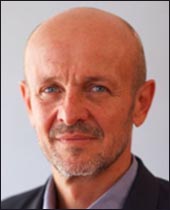 Remy de Tonnac
CEO
INSIDE Secure


INSIDE Secure (Euronext Paris: INSD), a leader in embedded security solutions for mobile and connected
devices announced that company CEO, Remy de Tonnac has been named a finalist for Executive/CEO of the Year in the 6th Annual 2014 Golden Bridge Awards. Remy is being recognized for leading INSIDE Secure through a strategic business transformation, which successfully grew the company from a niche semi-conductor provider to a mobile solutions company that offers a full spectrum of hardware, firmware, middleware, software and intellectual property solutions that works together—enabling customers to secure everything from mobile devices and transactions to payment, access and the Internet of Things.

Organizations from all over the world were eligible to submit nominations including public and private, for-profit and non-profit, largest to smallest and new start-ups. Winners will be honored in San Francisco on Monday, September 8, 2014 during the 6th annual awards dinner and presentations.

"It is a great honor to be named a finalist for CEO of the Year in this year's Golden Bridge Awards"

"It is a great honor to be named a finalist for CEO of the Year in this year's Golden Bridge Awards," said INSIDE Secure CEO, Remy de Tonnac. "Needless to say that this selection would not have been possible without the support of the entire INSIDE Secure team. Congratulations are due for their efforts in advancing INSIDE Secure's position to be at the core of a fundamental evolution of our environment in the age of Mobile computing and the emergence of the Internet of Things. This new positioning has allowed us to achieve strong growth in 2013 and to prepare a vibrant future for the company."

Under Remy de Tonnac's leadership, INSIDE Secure made a highly strategic change in market position to insure the company's continuing success and meet evolving customer needs within the embedded security market. Looking ahead to 2014, the company will further pursue its repositioning strategy, seizing on the opportunities arising in fast-moving sectors like Digital Rights Management (DRM) and Mobile Payment Security. Also, the company will continue to leverage its security IP, technology and expertise and pursue the strategic monetization of its NFC technology and patent portfolio, as illustrated by the company's completion of a $19.2M IP deal with industry giant Intel earlier this year.

"We're pleased to see Remy de Tonnac make the finalist list for this award and applaud his successes in helping leading companies secure a variety of devices and payments critical to a secure economy," said Rake Narang, co-President, Golden Bridge Awards.

About the Golden Bridge Awards
SVUS Awards organized by Silicon Valley Communications are conferred in 10 annual award programs: CEO World Awards, Consumer World Awards, Customer Sales and Service World Awards, Golden Bridge Business Awards, Globee Fastest Growing Private Companies Awards, Info Security's Global Excellence Awards, Network Products Guide's Hot Companies and Best Products Awards, Pillar Employee Recognitions World Awards, PR World Awards, and Women World Awards.

About INSIDE Secure
INSIDE Secure (Euronext Paris FR0010291245 – INSD) provides comprehensive embedded security solutions. World-leading companies rely on INSIDE Secure's mobile security and secure transaction offerings to protect critical assets including connected devices, content, services, identity and transactions. Unmatched security expertise combined with a comprehensive range of IP, semiconductors, software and associated services gives INSIDE Secure customers a single source for advanced solutions and superior investment protection.







Advertise your product/service here!