News


< Back
Security : Authentication : :
How to Mitigate Against POS Malware

Mark Bower, VP product management and solutions architecture, at Voltage Security weighs in on POS malware and how to mitigate against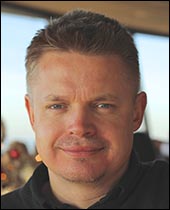 Mark Bower
Vice President of Product Management
Voltage Security


"By now, every retailer is aware of the risks of malware in the POS, the impact, and the simple fact being compliant to PCI doesn't equate to mitigating advanced threats that no doubt again stole the gold in this case. The only way to neutralize this risk is to avoid any sensitive data passing in and through the vulnerable POS or retail IT. Hundreds of thousands of merchants already do this today with proven approaches using the latest innovations in data-centric security and are able to brush off such attacks like water off a duck's back. These risks are totally avoidable – and at a fraction of the cost of the fallout from dealing with the consequences."
Mark Bower is a noted expert in data protection solutions, bringing two decades of industry and technology experience in this area to Voltage Security. His expertise spans electronic banking, payments processing, smartcard payment systems, Public Key Infrastructure (PKI) and identity management systems both for the commercial and government sectors. He has worked on numerous security projects with Global 2000 firms in the UK, Asia, Australia, and North America including many of the Fortune 50 in the US.
At Voltage, Mark serves in the position of Vice President of Product Management, with responsibility over strategy and development of the end-to-end data protection portfolio. This includes email, file and document encryption, as well as the protection of sensitive data in databases, applications and payments systems. Prior to this, he managed worldwide business strategy for Identity Management Software for Hewlett-Packard and specifically the HP OpenView Identity Management product line. Previously, he oversaw Business Development for Baltimore Technologies, a leading provider of PKI and cryptographic security technologies.
Mark is heavily involved in industry standards bodies including the PCI Security Standards Council SIG's covering Tokenization, Point to Point Encryption, EMV and e-commerce. He has authored several patents for e-commerce and security technology innovations in POS software management and remote control and data security based on his extensive experience in banking and payment solutions.





Advertise your product/service here!